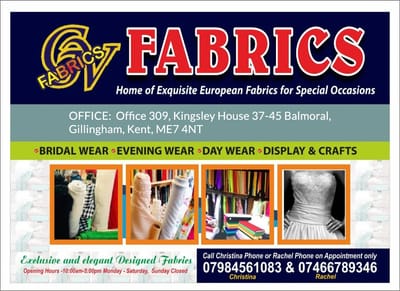 GLORY VENTURES FABRICS
Welcome to Gv Fabrics & Haberdashery
GV Fabrics is an independent partnership fabrics online retailers, previously based in Chatham High Street, Kent but now you can find us in Office 309, Kingsley House 37-45 Balmoral, Gillingham, Kent.
We stock all types of fabrics and we specialize in bridal, occasions, and cooperate wear fabrics including stage-wear material. We also stock all types of haberdashery e.g thread, zips, needle, pins, etc. Our retail fabrics are designed with prints and plain fabrics also, occasional ranges of knitted and woven plain fabrics.
We are creative fashionists who have gathered their experience in a high street shop for over 12 years.
For Enquiries
on any Fabrics and Haberdashery or any in house designing works.